WHY YOU SHOULD HAVE HOUSEPLANTS IN YOUR HAIR AND BEAUTY SALON
Plants are popular virtually everywhere these days, and with how accessible they now are to buy (and how much free time quarantine and lockdowns gave us!), everyone is a plant parent. However, there's no reason that all the wonderful benefits of these green roommates should be restricted to the home – your salon deserves the love, too! There are plenty of low-maintenance options and reasons you should bring these green beauties into your business.
This is why you should have indoor plants in your salon!
Give your space an easy décor upgrade.
The number one obvious draw of bringing plants into your salon is the beautiful aesthetic upgrade they can bring to a space! It doesn't matter if you are a salon focusing on products or processes with natural ingredients or not, the simple addition of nature in your space can give a beautiful look and calming ambiance to a space. You could have a harder time finding plants that don't go with your space than plants that don't!
There's something about the look of a vining plant draping around salon walls and mirrors that looks beautiful, no matter what kind of salon you have. Plants like those from the Pothos genus or the dual-toned Philodendron brasil are perfect for salons that want to look of vining and climbing plants, but don't want to dedicate too much time to daily care.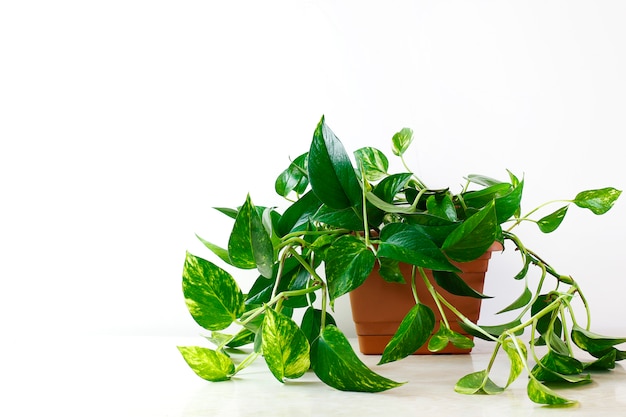 Plants can naturally filter the air inside your space.
  With so many people walking in and out of your space and all the sprays and chemicals used in your salon each day, your space could use a few air-purifying plants. Certain species of plants are better at doing this than others, but our personal favorites are the Dracaena marginata, better known as the Dragon Tree, and the many varieties of Snake Plants!
  Indoor plants like these are wonderful at removing both naturally and man-made pollutants from your air, keeping both yourself and your staff, as well as your clients, safe from inhaling some unsafe things. Just by including a few of these plants in your space, you can begin to counteract all the chemicals put out by your cleaning and styling products so everyone can feel good while you focus on making everyone look good!
They aren't just pretty to look at – certain plants can also be useful in a salon!
  If you're the type of salon that cares about the ingredients going into the products you use, you probably won't be surprised to hear that some of those materials come from common plants that you can bring inside! Including flowering plants like lilies can make a place smell wonderful and relaxing, other options like Aloe Vera can actually be used in your daily routines and beauty treatments because of its wonderful skin and hair-boosting qualities.
  Learning how to make use of plants like these can be as easy as training your staff with a few minutes on YouTube and trying it out on one initial plant. If you're ready to get a little crafty, these are the plants for you!